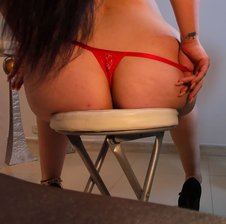 Renatanahyan
Praćenje
Obavijesti kad je online
38, Bik, Colombia, Medellin
Posljednji login:
09.08.2023. 04:51:33
Bitni detalji od
Renatanahyan
| | |
| --- | --- |
| Spol | Žena |
| Zanima me | Muškarci |
| Dob | 38 |
| Visina | 5'4" - 5'6" [160cm - 170cm] |
| Težina | 140 - 160 lbs [60 - 70 kg] |
| Kosa | Brineta |
| Oči | Smeđe |
| Etnička pripadnost | Latino |
| Jezici | Engleski, Španjolski |
| Rodni grad | Medellin |
| Stidne dlake | Obrijana |
| Poprsje | Veliki |
| Guza | Srednji |
I am excited by a conversation in which there is a good connection, in which I can speak openly, without fear of expressing myself, it excites me to experience new things that lead me to discover new sensations in my body, get out of the routine and live new experiences.
Hello! I am Renata, a fascinating and seductive girl. I invite you to join me on a journey full of fun and sensuality. I am known for my authenticity and for fulfilling your wishes and fantasies. My presence will captivate you while we share special moments and unique experiences.

I am an expert in creating an intimate and exciting environment. My beauty and charm will envelop you, while we explore new emotions and pleasures together. Let me be your guide in this exciting universe of pleasures and sensations.

Do you want to know me better? Enter my room and let yourself be seduced by my charm. If you liked my profile, feel free to follow me and send me a gift. I will thank you with a very special show.
I don't like negativity, I'm trying my best to smile and make your day a little better while you're in my room, so please play and look on the bright side.
Radni sati od Renatanahyan
1

The Nora toy is a lovese toy, I wanted to have it to feel new sensations, I think it must be fun to play with.
Pročitaj više
2

I would like to compete in the Queen contest, my wish is to be able to reach my goal and improve myself a little more every day.
Pročitaj više
3

I would like to have a good day, a wonderful day, a day in which I feel very happy.
Pročitaj više
My playlist of music on video